UGC (Reviews)
Dissolves well and tastes good.
Dairy Free
Gluten Free
Keto Friendly
Soy Free
USDA Organic
Free shipping on all orders of $99 or more!
100% No-Risk Money-Back Guarantee
Keep eating powerfully while we restock!
Try Chocolate Paleo Bone Broth Protein Shake Now!
Your body can't store amino acids for later use, so it's essential to get enough in your diet every day.
Amino Power Powder delivers your essential amino acids in an easy-to-absorb form, along with vitamin B6 and alpha-ketoglutarate to boost energy and metabolism and help maintain muscle. Because protein is crucial for a wide array of functions—from hormone production to immune support—just one scoop a day of this delicious, fruity blend gives your body the building blocks it craves for living and aging powerfully.
Mix 12 grams (approximately 1 scoop) in 8 to 10 oz of water per day or as directed by your healthcare practitioner.
Warning: Not recommended for individuals with phenylketonuria.
L-leucine, L-phenylalanine, L-valine, L-histidine, L-lysine, L-arginine, L-isoleucine, alpha-ketoglutarate, L-methionine, L-threonine, L-tryptophan, natural flavors, partially hydrolyzed guar gum, steviol glycosides (from organic Stevia rebaudiana leaf), citric acid, beet powder (color).
Amino Power Powder
Vital Nutrition
Provides all 9 essential amino acids
Immediately Available
Rapidly absorbed and used
Muscle Maintenance
Supports muscle mass
Reignite Wellness™
A NEW WAY TO POWER YOUR PROTEIN
BUNDLE AND SAVE
3 bottles Amino Power Powder - Save $39.59
$158.38 $197.97
6 bottles Amino Power Powder - Save $98.99
$296.96 $395.94
Benefits
Amino Power Powder provides easily absorbable free-form essential amino acids and vitamin B6 in a sugar-free, fruit-punch flavored powder. It may support:
Maintenance of lean muscle mass
Muscle development
Optimal protein status
Faster post-workout recovery
Resilience to age-related muscle loss
IT'S WHAT'S INSIDE THAT COUNTS
Built to Last
Support your muscle mass so you can age powerfully.
For Strong, Sensitive Types
Easier to digest and use than amino acids in food, for stomachs that need a little extra care.
Sweet, Not Sugary
Made with stevia… and 0 grams of sugar.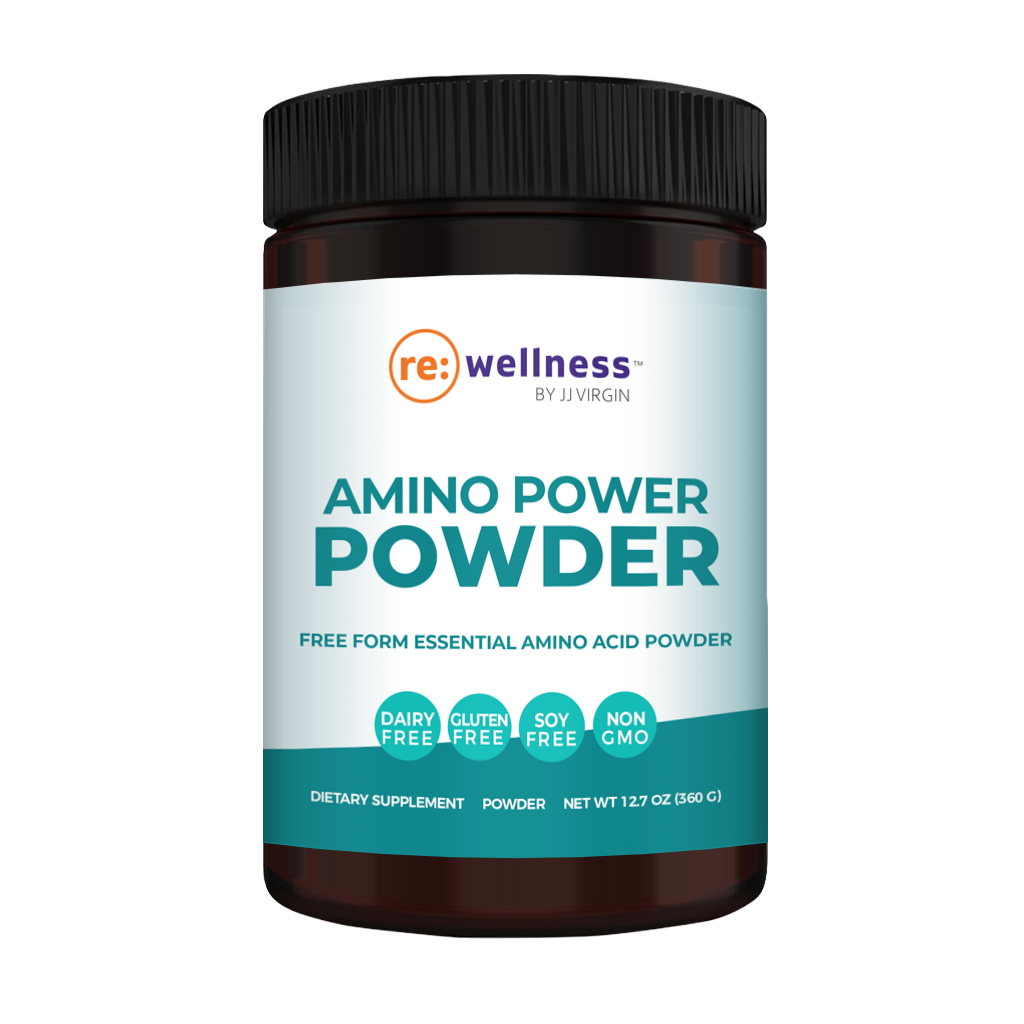 FAQ
DO I NEED AMINO POWER POWDER IF I USE ALL-IN-ONE SHAKES?
We always recommend discussing your unique nutritional needs with your healthcare practitioner. JJ generally recommends using Amino Power Powder in addition to All-In-One Shakes as an "insurance policy" that you're getting everything you need. Amino acids are critical for optimal health, and Amino Power Powder helps ensure that you're getting all nine essential amino acids to help support muscles, energy, workout recovery, hormone production, immune health, and more.
WHY ISN'T THERE ANY PROTEIN IN AMINO POWER POWDER?
When you eat protein, it breaks down in your body into amino acids (the building blocks of protein). Because they're already broken down, they don't go through the same digestive process that a whole protein would go through, so it is not considered a source of protein on a nutrition label.
Think of it this way: Imagine protein as a complete puzzle, and the puzzle pieces that make it up are amino acids. When you eat food containing protein, it's like getting a whole puzzle that your body breaks into individual pieces to build muscles, enzymes, and more. Amino Power Powder is like getting a box of individual puzzle pieces directly—they are ready to be used and don't need to be broken apart from a whole puzzle first.
So while Amino Power provides the crucial pieces similar to protein, it's in a form that's ready to use right away. It can act as a safety net to ensure you have enough puzzle pieces, but it's not replacing the whole puzzle you would get in your diet, which also provides energy (calories) along with the puzzle pieces.
How do subscriptions work?
Put your favorite items on auto-ship and save money each shipment. Choose how many you want and how often you want it delivered: one, two, or every three months.
Free shipping kicks in once your order is over $99, and you can add other items to your subscription order to qualify. You'll save on shipping and give the planet a carbon footprint high-five.
Cancel anytime by logging into your account. You can manage your subscriptions here, and you can also select "Cancel" to remove this item from your auto-renew.
Need help managing your subscription order? Reach out to our Customer Support team at info@jjvirgin.com, they are happy to help!