ElectroReplenish
UGC (Reviews)
Two days drinking this first thing in the morning before my coffee and I feel much more hydrated, focused and energized!
Dairy Free
Gluten Free
Keto Friendly
Soy Free
USDA Organic
Free shipping on all orders of $99 or more!
100% No-Risk Money-Back Guarantee
Keep eating powerfully while we restock!
Try Chocolate Paleo Bone Broth Protein Shake Now!
ElectroReplenish is a complete and balanced electrolyte formula that helps promote optimal hydration, especially after excessive sweating. It contains the key electrolytes potassium, sodium, chloride, and magnesium. We've added D-ribose to support post-exercise recovery and energy levels, while taurine regulates the flow of electrolytes in and out of cells. Vitamin C, quercetin, and citrus bioflavonoids provide anti-inflammatory, antioxidant, and many other benefits. This comprehensive formula blends well into any beverage, or you can place it in popsicle molds for a refreshing treat. Unlike other formulas, ElectroReplenish contains no sugars or artificial sweeteners. Its natural lemon-orange flavor is sweetened with stevia.

Mix one scoop of ElectroReplenish into 10-12 oz of water per day, or as directed by your healthcare practitioner. Alternatively, you can mix ElectroReplenish with water and pour into molds to freeze for popsicles.
Vitamin C (as ascorbic acid, calcium ascorbate, magnesium ascorbate), magnesium (as di-magnesium malate, magnesium ascorbate), chloride (as sodium chloride), sodium (as sodium chloride), potassium (as potassium bicarbonate, potassium aspartate), D-ribose, taurine, citrus bioflavonoids, quercetin, rutin, natural flavors, tapioca dextrin, silicon dioxide, steviol glucosides (from organic Stevia rebaudiana leaf), citric acid.
ElectroReplenish
ELECTROLYTES+
Optimal hydration
INVIGORATING
Overall wellness support
ALL NATURAL
No artificial ingredients
Reignite Wellness™
BETTER HYDRATION. FASTER RECOVERY.
BUNDLE AND SAVE
3 Containers ElectroReplenish - Save $26.99
$106.78 $133.47
6 Containers ElectroReplenish - Save $66.74
$200.21 $266.94
Benefits
Supports energy production in your cells
Helps regulate fluid balance, keeping the proper amount of water inside cells
Promotes better exercise recovery, replenishing electrolytes lost during intense exercise
Supports healthy heart function by improving blood pressure and fluid balance in the body
Helps build healthy collagen, one of the main structural components of blood vessels (and important for skin, hair, nails, and more)
Helps with occasional symptoms of dehydration after excessive diarrhea, vomiting, or sweating.
Promotes healthy stress levels
IT'S WHAT'S INSIDE THAT COUNTS
REPLENISH YOURSELF
QUENCH YOUR THIRST
Promotes optimal hydration.
REFRESHING CITRUS TASTE
Delicious lemon-orange flavor, naturally sweetened with stevia.
SYNERGISTIC BLEND
Electrolytes and other nutrients for comprehensive hydration and overall health.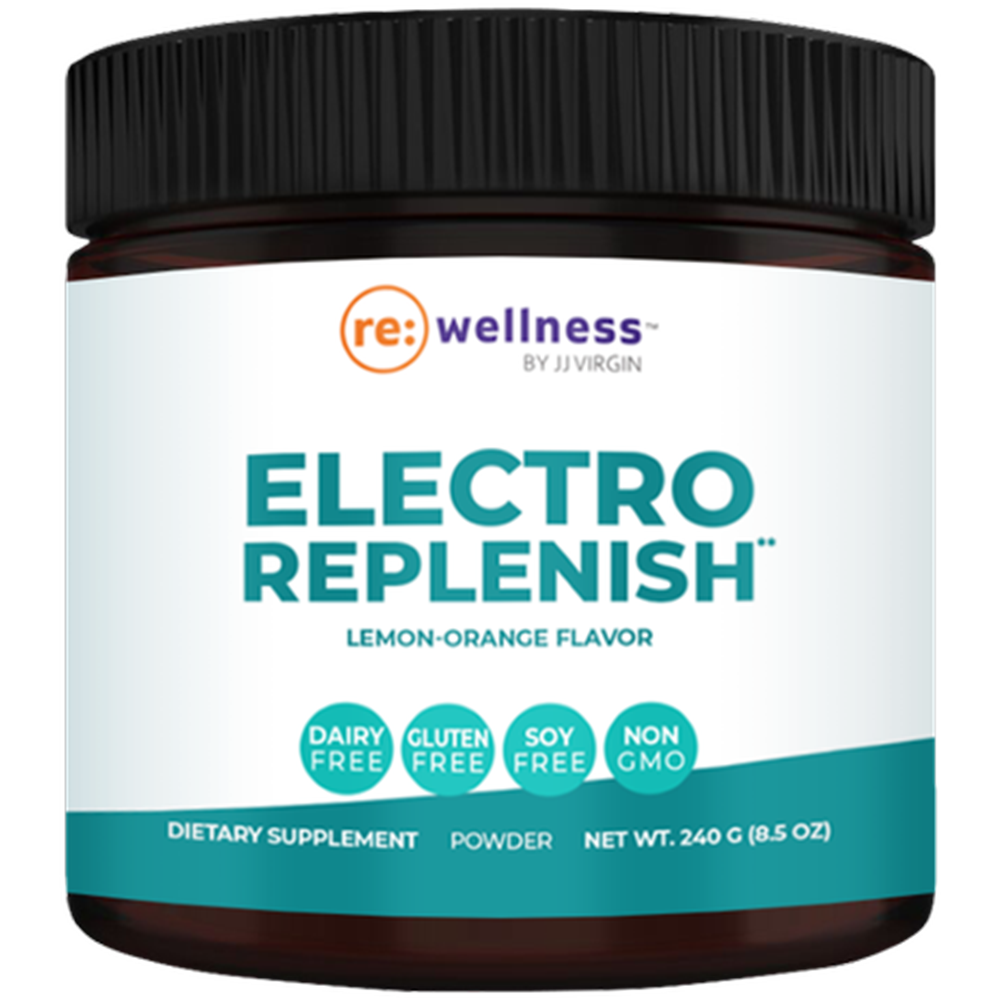 FAQ
WHAT ARE ELECTROLYTES?
Electrolytes are vital minerals that help cells communicate and generate energy. They regulate fluid balance in and around cells, and are key for maintaining energy and cell health.
WHAT CAUSES FLUID LOSS IN THE BODY?
Electrolytes are easily depleted when the body loses excessive fluids. This may result from occasional illness as well as from vigorous exercise—diarrhea, vomiting, sweating, etc. In some cases, supplementing with ElectroReplenish may help to maintain healthy hydration and support energy generation.
HOW DOES STRESS IMPACT ELECTROLYTE BALANCE?
Stress significantly impacts the adrenal glands, which are responsible for maintaining healthy electrolyte balance, particularly by regulating levels of sodium and potassium. Stress can make the adrenal glands unable to keep up with these demands, resulting in mineral imbalances that can compromise cellular energy generation.
HOW DO SUBSCRIPTIONS WORK?
Put your favorite items on auto-ship and save money on each shipment. Choose how many you want and how often you want it delivered: every one, two, or three months.
Free shipping kicks in once your order is over $99, and you can add other items to your subscription order to qualify. You'll save on shipping and give the planet a carbon footprint high-five.
Cancel anytime by logging into your account. You can manage your subscriptions here, and you can also select "Cancel" to remove this item from your auto-renew.
Need help managing your subscription order? Reach out to our Customer Support team at info@jjvirgin.com, they are happy to help!